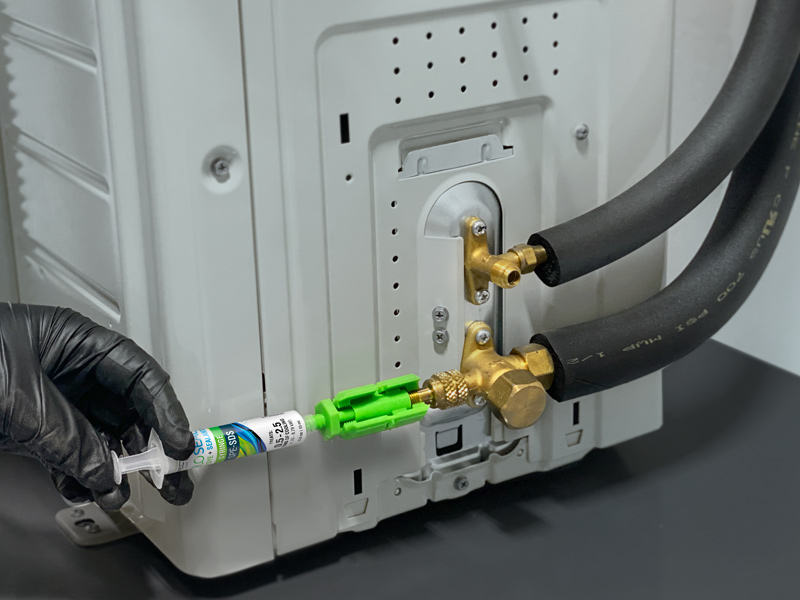 MELVILLE, NY— Spectronics Corporation announces the release of the GLO Seal syringe and adapter kit
The GLO Seal syringe and adapter kit, SPE-SDSK-CS  came out this week. The GLO Seal syringe and adapter kit contains a 0.3 oz (10 ml) syringe prefilled with GLO Seal. Also, it contains one dual adapter for injecting into the system. OEM-Grade fluorescent UV dye combined with a powerful non-polymer sealant is in GLO Seal. This delivery method treats up to 2.5 tons (8,79kW) of cooling. The GLO Seal syringe and adapter kit has an inexpensive price point. This allows for flexible entry into various different markets and applications.
The single-use disposable syringe injector is new for Spectroline. It offers a convenient way to inject into the system with no additional tools needed. Additionally, the new Spectroline pivoting dual adapter is quite unique in a few ways. The versatile 2-in-1 tool that easily switches from ¼" and 5/16th flare fittings treats the system with total ease.
The kit provides a fast and easy way to find and fix AC leaks and is a key component to have on hand to extend equipment lifespan, eliminate call-backs and prevent costly breakdowns through its 24/7 continuous leak detection and ongoing sealing.
As ductless mini-split systems are increasing in popularity due to their convenience of zoned comfort, energy efficiency, ease of installation, flexible sizing/configuration options, built-in air quality filters, and ability to provide both heating and cooling, Spectroline's new product is the perfect complementary tool. The new GLO Seal with Single-Use Syringe Injector & Dual Adapter finds and seals every leak in mini-splits and small appliances alike.
Watch The Detailed Break Down Of The New Product
About Spectronics Corporation
Spectronics, based out of Long Island, New York, is the inventor of UV fluorescent leak detection technology as well as the world-leading manufacturer for over 65 years. In addition to its patented, fluorescent dyes, the company offers a full line of leak-detection lamps and diagnostic tools. Spectronics is dedicated to upholding high standards in design manufacturing for leak detection solutions and is trusted by HVAC/R professionals and industry leaders on a global scale. For more information, call toll-free at 1-800-274-8888. Outside the U.S. and Canada, call 516-333-4840.