About IRA
The IRA (Inflation Reduction Act) is a law designed to combat climate change in the United States. Fiscal incentives to encourage environmentally-conscious choices among homeowners include tax credits and consumer rebates that reward energy-efficient HVAC installations as well as the use of renewable resources like electricity.  Since environmental conservation is a national priority, many homeowners are making choices with the planet in mind, and what products are in demand in the HVAC market has changed. 
Heat Pumps
As there continues to be a steady movement away from traditional air conditioning systems with the new incentives in place, there is an uptick in the demand for heat pumps. Why heat pumps? Well, a key feature included in the program is upgrading to heat-pump technology for heating and cooling. Heat pumps are the more energy-efficient option that can replace standard air-conditioning units requiring more electricity. Specifically, the IRA program offers a 30% tax credit for up to $2,000 to anyone purchasing and installing them. Some benefits of heat pumps include improved air quality, quiet operation, reduced carbon emissions, less maintenance and energy efficiency.
Mini-Split Heat Pumps
Types of heat pumps such as the popular mini-split heat pump combine mini-split systems with heat pump technology. They offer the convenience & flexibility of ductless indoor air-handlers with the heating/cooling power & efficiency of heat pumps. The new GLO Seal SPE-SDSK-CS is ideal for any mini-split system or small appliance.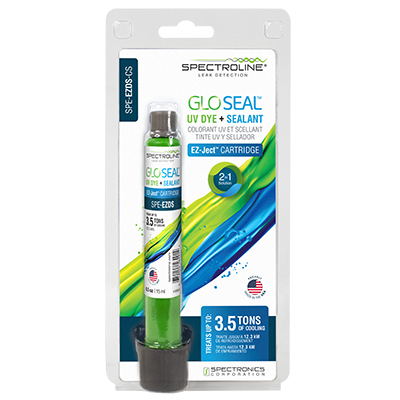 About the Clean Sealant in GLO Seal 
NEW GLO Seal Syringe and Adapter Kit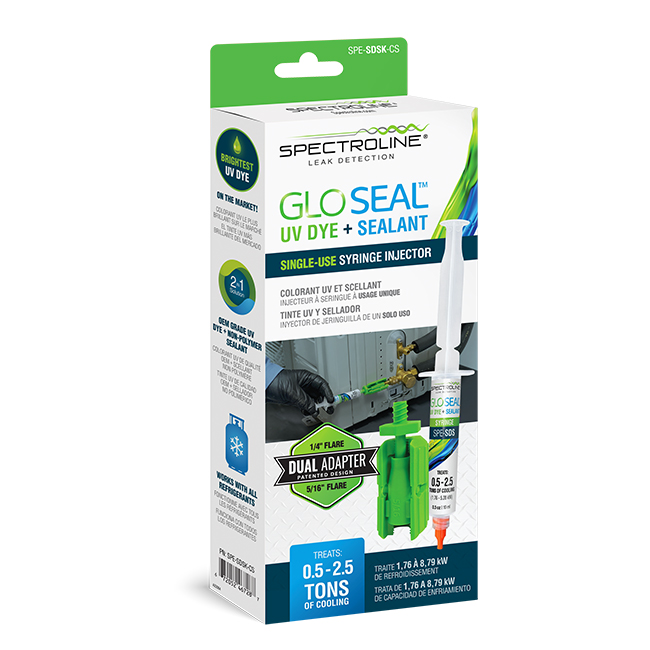 The GLO Seal syringe and adapter kit, SPE-SDSK-CS, contains a 0.3 oz (10 ml) syringe prefilled with GLO Seal, and one dual adapter for injecting into the system. GLO Seal (see all different injection methods available here) is an OEM-Grade fluorescent UV dye combined with powerful non-polymer sealant. In this delivery method, GLO Seal can treat up to 2.5 tons (8,79kW) of cooling. The inexpensive price point allows for flexible entry into various different markets and applications.
The single-use disposable syringe injector is new for Spectroline and offers a convenient way to inject into the system with no additional tools needed. However, what makes this kit unique is the new Spectroline pivoting dual adapter. It is designed to treat systems with ease, being a versatile 2-in-1 tool easily switching from ¼" and 5/16th flare fittings.
The kit provides a fast and easy way to find and fix AC leaks and is a key component to have on hand to extend equipment lifespan, eliminate call-backs and prevent costly breakdowns through its 24/7 continuous leak detection and ongoing sealing.