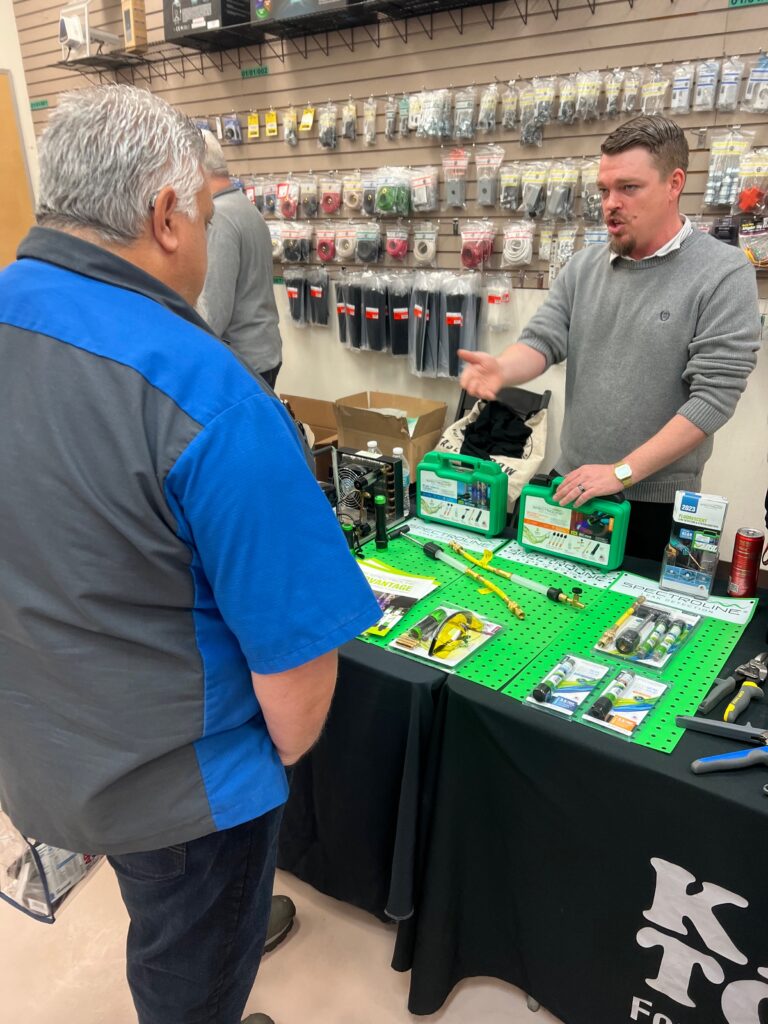 Last week was a blast! Spectroline leak detection experts were showcasing our HVACR products at the Peirce-Phelps Marketing Summit Monday and the Dealers Meeting Wednesday. Then, we got to teach all about leak solutions alongside our friends from Inficon at the 2023 ARS Expo!
Who is Peirce-Phelps?
In 1926, three MIT engineering graduates, W. Grant Peirce Jr., J. Trevor Peirce, and Charles M. Phelps, started the company based on the hottest new technology product during that time period—radios. View their entire history timeline here.
Who is Inficon?
Inficon was founded in 2000, located in Bad Ragaz, Switzerland. They are engaged in developing, manufacturing, and supplying instruments, sensor technology, and process control software for the semiconductor and vacuum-coating industries. They also distribute thousands of products in various industries, one of them being our HVACR leak detection line. Click here to visit their website.
Leak Detection Products Showcased
Our AC&R products were taking the spotlight. This includes our lamps and fluorescent dyes to AC leak sealers. These intuitive products truly makes AC leak repair and preventative maintenance look easy!
Complete Leak Detection Kits
The kits are a convenient tool to let you try our fluorescent dyes, including the injection method, lamps, glasses, and clean-up product. Want to try our leak-detection fluorescent dye for your small-sized system? Or maybe you need to find one for your medium-sized system. Perhaps you need the solution for a large system. The kits set you up for success and detect leaks right away. View all of them here!
Fluorescent Dye
Spectroline's fluorescent dyes, are the highest quality dyes you can buy for AC&R leak detection. Understanding the need for safe-for-system leak detection dye, this product provides you with every advantage you need when on the job. For example, our fluorescent dyes are industry tested and proven safe for AC&R systems. Additionally, they are miscible and filtered down to 2 microns. Spectroline dyes do not affect the operating characteristics of any system.
Leak Detection Lamps
Spectroline's high quality inspection lamps are engineered for optimal performance when paired with our dyes. Our two UV lamp options come in two different sizes – both features high-intensity LEDs perfect for every job.
Fluorescent Dye with Sealant
Lastly, we showcased our premium GLOSEAL product. In essence, this robust find-and-fix solution for AC&R systems is everything you need to find leaks fast and seal difficult-to-find leaks. Use GLO Seal for 24/7 leak detection and preventative maintenance. Discover more on GLOSEAL here.