Cool Seal™ is the hassle-free way to seal refrigerant leaks in condensers, evaporators, O-rings, and hoses – quickly and permanently. It's an economical alternative to expensive parts replacement and can add years to older, out-of-warranty AC&R systems leaking small amounts of refrigerant. As an added benefit, this dependable sealer can remain safely in the system to guard against future leaks.
Cool Seal™ meets ASHRAE 97 standard for chemical stability. Its non-polymer, oil-soluble formula is safe for all AC&R system components and recovery equipment. It works in all popular AC&R systems, including high-pressure R-410A systems – and can be injected with the unit off or running. Unlike aerosol can-type leak sealers, Cool Seal™ is non-flammable, has no storage-related safety issues, no need for system pump down, and allows the technician to see the contents injected into the system. Cool Seal™ EZ-Ject™ cartridges can withstand 450+ PSI and are part of the easiest-to-use injection method.
Features Summary:
• Non-polymer, oil-soluble formula safe for system components and recovery equipment.
• Remains safely in the system to help protect against future leaks.
• Can be injected with system off or running.
• Available in three convenient delivery methods.
• Now available in a Cool Seal™ EZ-Ject™ Contractor's Value Pack.
ACID-BUSTER™ is a ready-to-use acid scavenging solution that can be injected directly into an air-conditioning or refrigeration system. Simply connect the injector to the system's low-side service port and turn the handle to inject the exact amount of ACID-BUSTER™ required. ACID-BUSTER™ can be used with all AC&R systems. It does not contaminate the refrigerant or lubricant – or leave behind a residue of corrosive salts. ACID-BUSTER™ is designed for use in CFC, HCFC and HFC refrigerants using mineral oil, polyol ester, and alkyl benzene lubricants.
Standard maintenance procedures for acid build-up problems require performing frequent oil changes to dilute acids or require flushing the entire system to remove acids. ACID-BUSTER™ eliminates these expensive and time-consuming repairs. It is specially formulated to remain safely in the system.
Features Summary:
• Twice as concentrated as competitive solutions.
• Works with all refrigerants and lubricants (mineral oil, polyol ester, and alkyl benzene).
• Compatible with semi-hermetic, hermetic, and scroll compressors.
• Direct, reusable injector eliminates the need for an oil pump.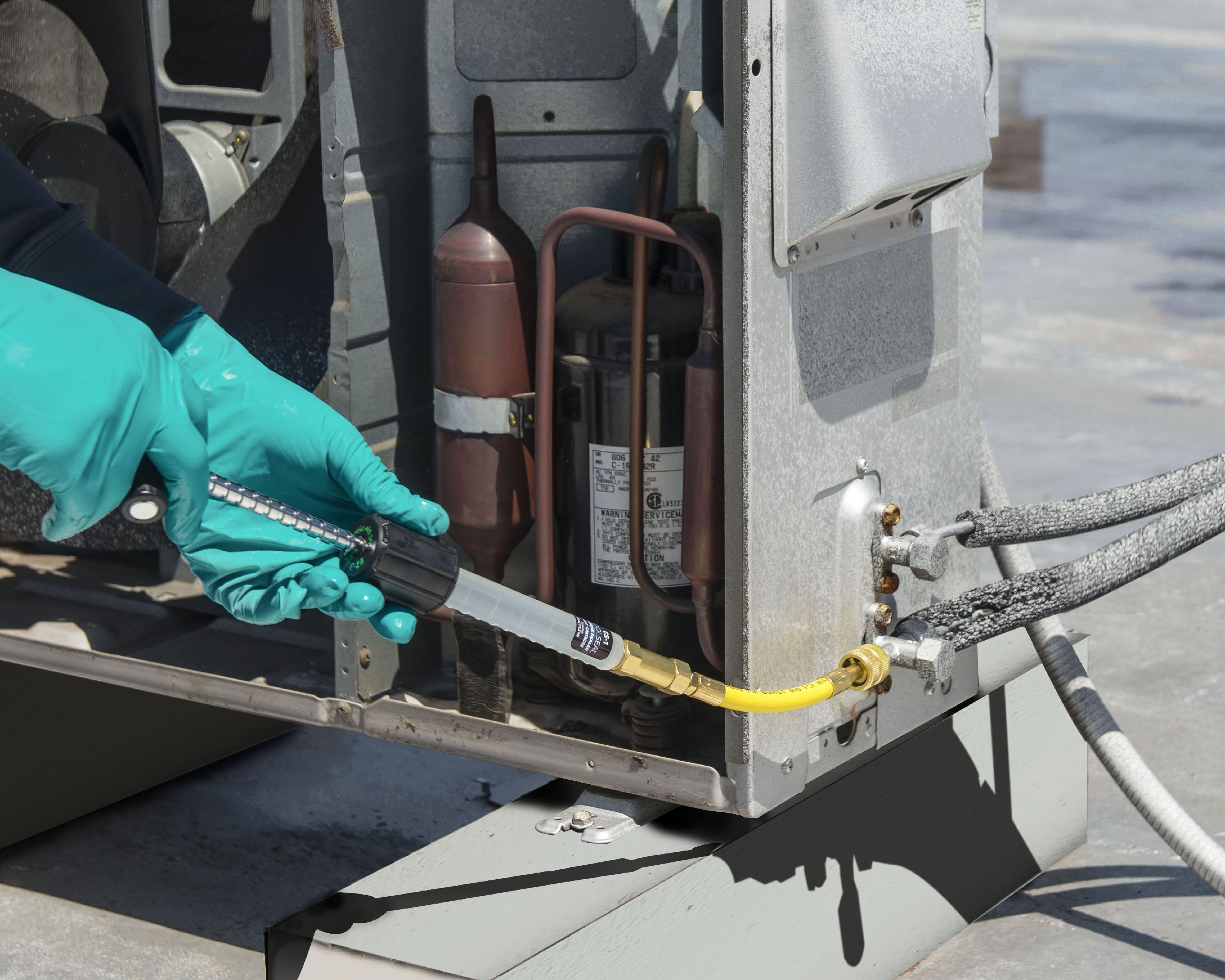 About Spectronics Corporation: Spectronics Corporation is the world's leading manufacturer of ultraviolet equipment and fluorescent dyes. Their state-of-the-art products are built to exacting engineering standards and are utilized in hundreds of markets and applications that demand uncompromising quality and reliability. Spectroline® UV lamps and radiometers are widely used to verify the structural integrity of military and commercial aircraft. Spectroline® fluorescent dyes are used to check for fluid leaks in power plants, nuclear reactors, oil pipelines and industrial facilities worldwide, and were even used on the U.S. Space Shuttle.