LONGLIFE™ UV Filter Glass
Inhibits solarization up to 50 times longer than traditional UV filters
Easy-to-Clean, Rugged Housing
Composed of durable, stainless-steel filter frame welded to scratch-resistant painted metal
Powerful Cooling Fan
Maintains low filter glass temperature to eliminate surface heat buildup
Minimal UV Damage
312nm and 365nm models virtually eliminate transmission of 254nm radiation
Special Diffusing Screen (D)
Ensures superior surface uniformity by eliminating striations caused by the contours of the tubes; provided on all 312nm and 365nm models
Variable-Intensity Control (V)
Provides continuous intensity adjustments from 100% down to 20% for maximum sample preparation time and sensitivity
On/off Switch (S)
Controls power to the unit
Automatic Shut-Off Timer (T)
Prevents UV overexposure; doubles as on/off switch
Hinged UV-Blocking Cover (C)
Adjustable to a comfortable angle providing the end user with a clear view of surface access for sample manipulation. Eliminates the need for additional UV-absorbing clothing or face wear and protects the filter surface from accidental damage
Standard Series, Single Wavelength UV
15-watt units provide high UV intensity
Fixed-intensity models include TS-, TC-, TR- and TL-series
Variable-intensity models with UV-blocking cover include TV-series
Models accommodate a variety of sample sizes
Housing dimensions (W x L x H): 18.5″ x 19.25″ x 4″, 34.3 x 48.9 x 10.2cm
Available in 120V/60Hz, 230V/50Hz, 240V/50Hz and 100V/50-60Hz
Our high power (15-watt) Standard Series units provide unsurpassed UV intensities and UV irradiance to produce brilliant fluorescent responses and highest clarity. Ideal for revealing even trace amounts of DNA! Models available in various UV wavelengths, fixed and variable intensity, filter sizes, timer options and UV-blocking covers.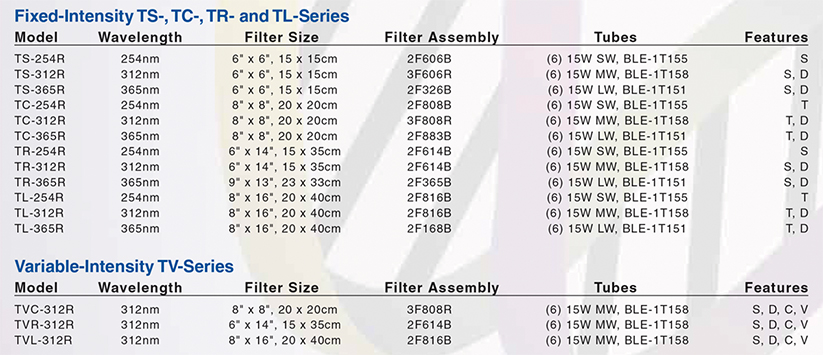 Bi-O-Vision™ Series, UV/White Light Combination
8-watt units provide standard UV intensity
Side-by-side UV/white filter sections
Available in fixed and variable intensity models
Housing dimensions (W x L x H): 18.5″ x 19.25″ x 4″, 34.3 x 48.9 x 10.2cm
Available in 120V/60Hz, 230V/50Hz, 240V/50Hz and 100V/50-60Hz
Bi-O-Vision™ UV/white light transilluminators offer both medium wave UV (312nm) and white light for dual-light convenience in one box. Each side of the sample platform fits samples up to 8″ x 8″ (20.3 x 20.3 cm). For added safety, only UV or white light can be selected with single UV/Off/VIS toggle switch.
The TD-1000R model offers fixed-intensity while the TVD-1000R offers variable-intensity control of either UV or white light. These units are continuously adjustable from 100% down to 50%.

Select™ Series, Single/Dual-Wavelength UV
Economical 8-watt units provide standard UV intensity
Fixed-intensity 312nm models accommodate a variety of sample sizes
Dual-wavelength models include TD-series
Housing dimensions (W x L x H): 12" x 13.25" x 3.5", 30.5 x 33.7 x 8.9cm
Available in 120V/60Hz, 230V/50Hz, 240V/50Hz, and 100V/50-60Hz
Select™ Series transilluminators offer all the features and benefits of our standard fixed-intensity series but designed with a cost effective housing. Dual wavelengths, in combinations of 365/312nm, 312/254nm, and 365/254nm provide broader UV applications. Single and dual-wavelength models accommodate a variety of sample gel or blot sizes, with rugged construction and simple operation. All Select™ series units feature hinged UV-blocking cover to protect the user from radiation and UV filter glass to inhibit solarization.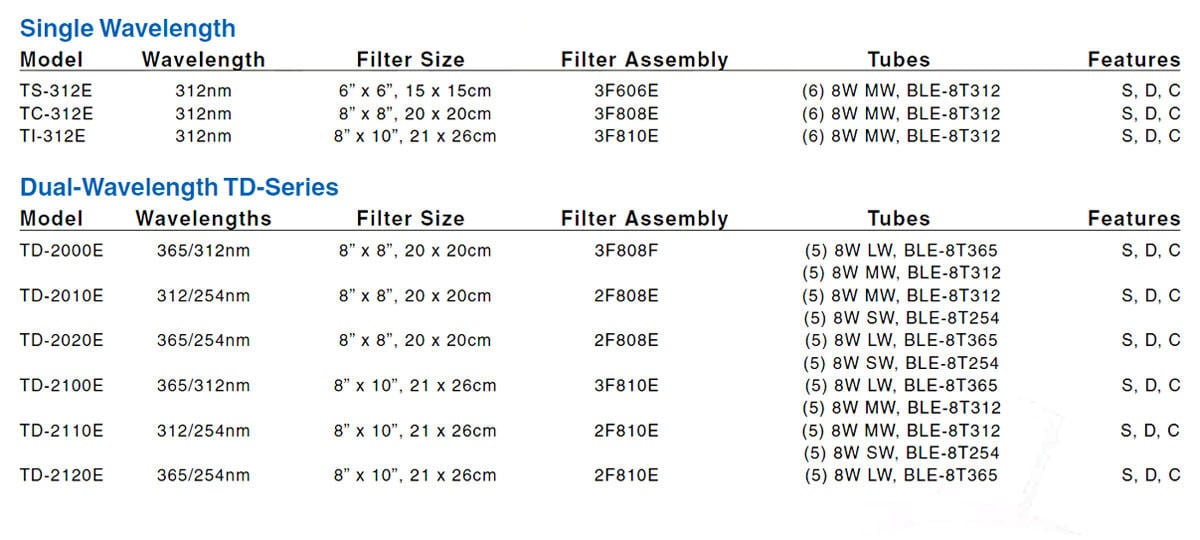 Slimline™ Series, Single Wavelength UV
Ideal for mini gels and samples
Cost effective, (4) 8-watt UV tubes
Fixed-intensity models include TE-series in various wavelengths
Housing dimensions (W x L x H): 11.5" x 14" x 2.5", 29.2 x 35.6 x 5.7cm
Available in 120V/60Hz, 230V/50Hz, 240V/50Hz and 100V/50-60Hz
Slimline Series™ transilluminators feature a small filter glass that measures 4.3" x 5.5" (11 x 14 cm), making them ideal for working with mini gels. This unit's slim profile uses only four UV tubes − reducing operating cost and UV exposure, while still delivering performance comparable to our standard models.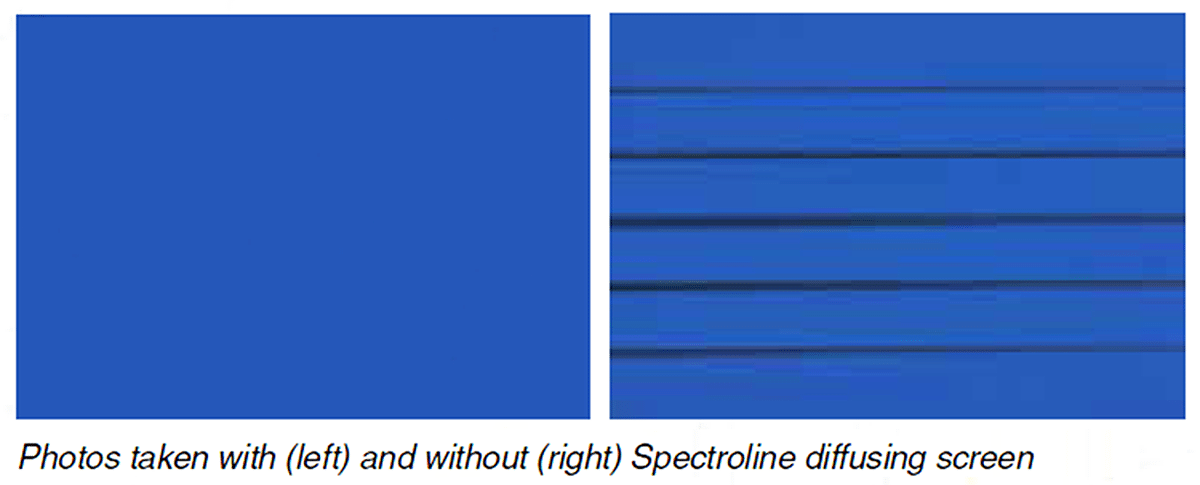 Diffusing Screen: All 312nm and 365nm models come with a unique, removable, polymer-based diffusing screen that ensures uniform UV emission and excellent irradiance uniformity at the sample surface. It also improves the quality of photographic images.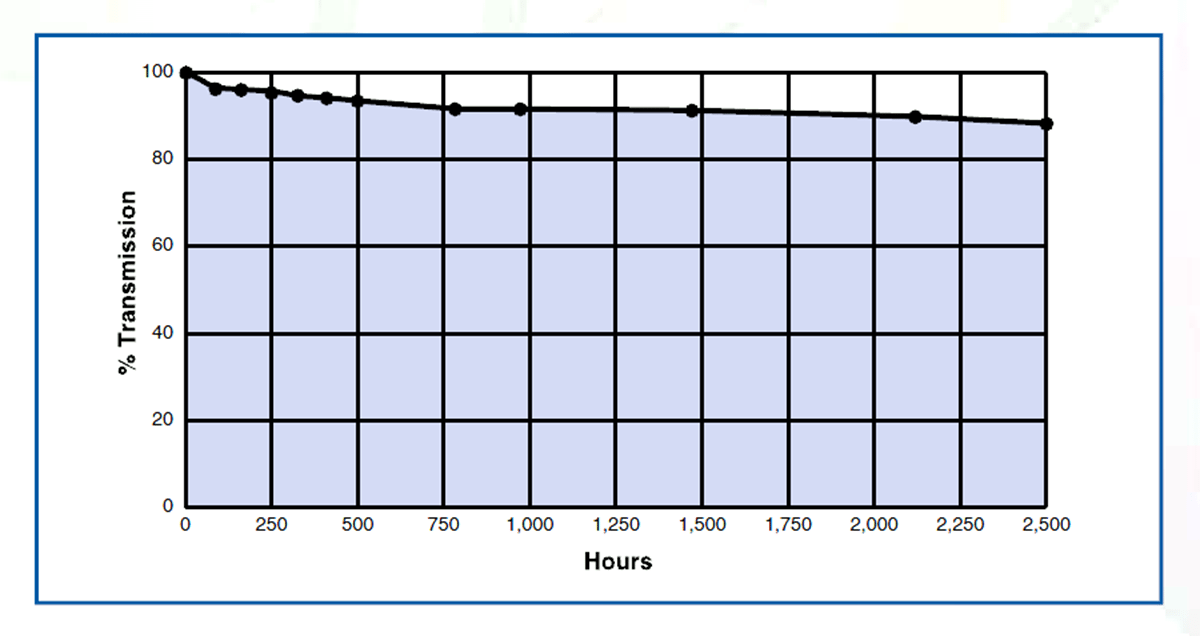 LONGLIFE™ Filter Glass: Found on all 254nm and certain 312nm models (2F-assembly series), this special filter glass inhibits solarization up to 50 times longer than traditional UV filters.
Accessories
| Model | Size (W x L x H) | Fits |
| --- | --- | --- |
| UVC-100A Cover | 10.75″ x 12.0″ x 1.0″, 27.3 x 30.5 x 2.5cm | Slimline and Select Series |
| UVC-250A Cover | 18.0″ x 13.0″ x 1.0″, 45.7 x 33.0 x 2.5cm | TC-, TD-, TL-, TR-, TS- and TV-Series |
| UVT-75A Filter Protector | 13.75″ x 10.0″, 0.4″, 34.9 x 25.4 x 1.0cm | Slimline and Select Series |
| UVT-150A Filter Protector | 19.2″ x 12.2″. 0.4″, 48.8 x 31 x 1.0cm | TC-, TD-, TL-, TR-, TS- and TV-Series |