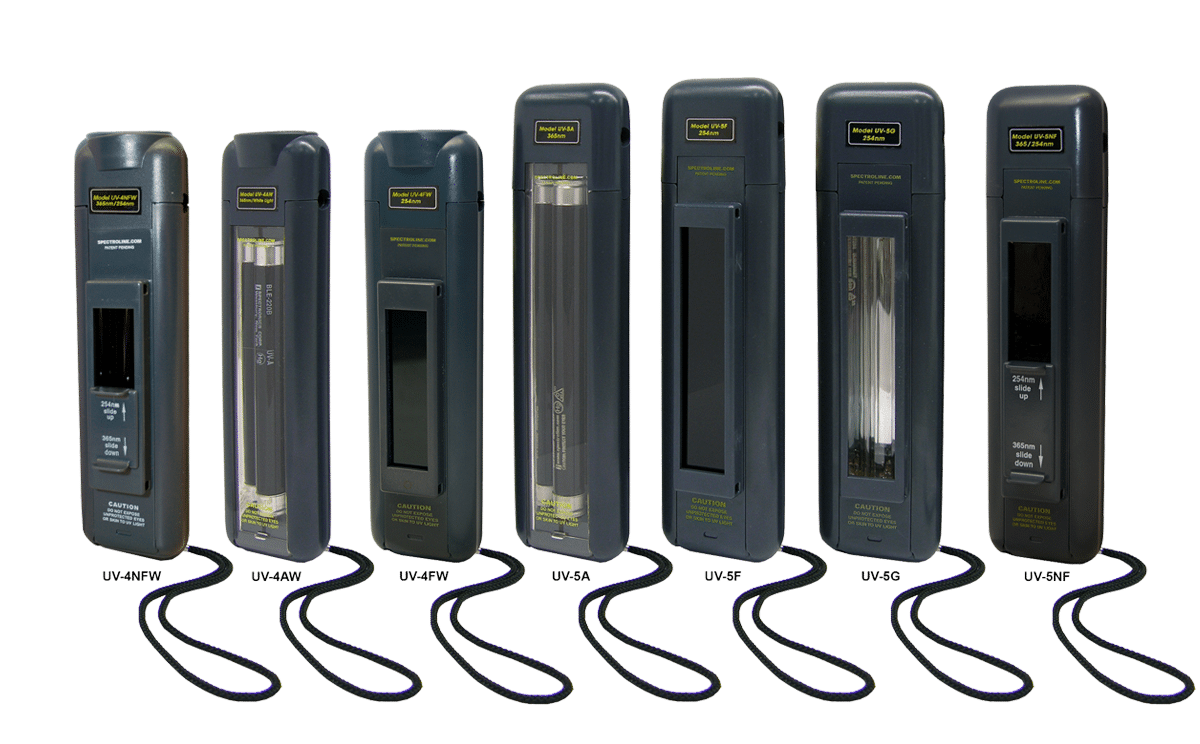 Superior design − Unique "shadow box" design blocks room light and makes materials glow brighter.
Affordable − Competitively priced to offer the best value for your money.
Versatile − Ideal for countless applications. The only battery-operated UV lamps with an AC adapter.
Portable − Compact and lightweight units are easily carried for on-site or field inspections. Provides 4 to 6 hours of use. Powered by four 1.5-volt AA alkaline batteries (not included). Includes AC adapter, nylon carrying strap and nylon travel pouch.
Convenient − All units feature sliding light shield for trouble-free tube changing. Slide-out compartment allows for quick, effortless battery replacement.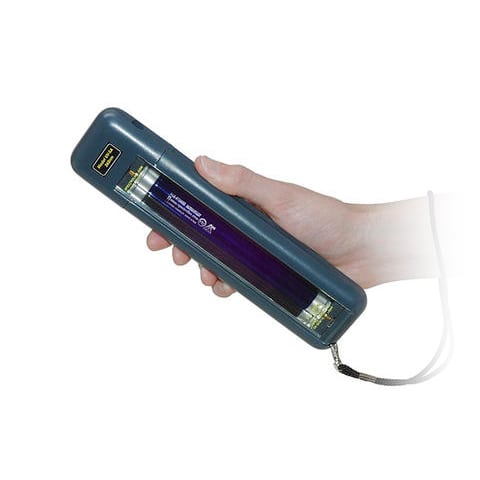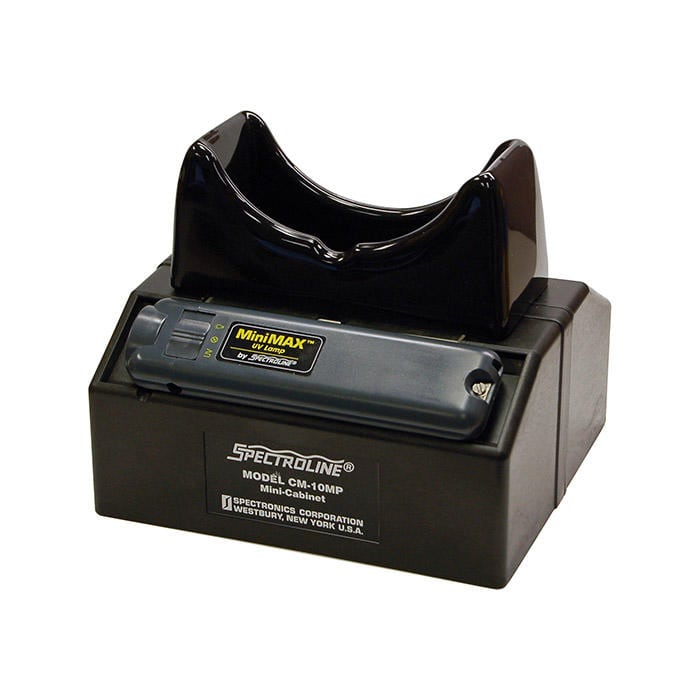 CM-10MP Mini UV Viewing Cabinet
When coupled with one of our MiniMAX™ Series lamps, this space-saving mini-cabinet makes the perfect, portable UV viewing workstation. It features a flexible, contoured eyepiece, molded plastic construction and a built-in UV-absorbing window for safe sample viewing during UV illumination.
Part Number
Wavelength(s)
Number of Tubes/Wattage
UV-4AW

365 nm/

white light

(1) 365nm 4 Watt BLB Tube and
(1) White Light Bulb

UV-4FW

254 nm/
white light

(1) 254nm 4 Watt Tube and
(1) White Light Bulb

UV-4NFW

254 nm/
365 nm/
white light

(1) 365nm/254nm 4 Watt Multi-Band Tube and
(1) White Light Bulb

UV-5A

365 nm

(1) 365nm 5 Watt BLB Tube

UV-5F
254 nm
(1) 254nm 5 Watt Tube
UV-5G

254 nm

(1) 254nm 5 Watt Germicidal Tube
UV-5NF

365 nm

254 nm

(1) 365nm/254nm 5 Watt Multi-Band Tube
| | |
| --- | --- |
| 126545 | AC Adapter, 100-240V, 50/60 Hz, 6V DC, 2A |
| 126675 | Domestic/Japanese Plug, 100/120V, 50/60 Hz |
| 126676 | European Plug, 230V, 50/60 Hz |
| 126677 | UK Plug, 230V 50/60 Hz |
| 126678 | Australian Plug, 240V, 50/60 Hz |
| 123965 | Bulb, White Light, 4 Watt |
| BLE-220B | Tube, 365nm, 4 Watt BLB |
| BLE-2537S | Tube, 254nm, 4 Watt |
| BLE-3625/HC | Tube, 365nm/254nm, 4 Watt (Multi-Band) |
| BLE-5T254 | Tube, 254nm, 5 Watt |
| BLE-5T3625 | Tube, 365nm/254nm, 5 Watt (Multi-Band) |
| BLE-5T365B | Tube, 365nm, 5 Watt BLB |