A great story in Forensic Magazine shows how almost 90 years later an unearthed clue from America's most notorious gang killing still has crime scene analysts pouring over evidence
Grisly Autopsies from the 1929 Valentine's Day Massacre Found
Then came the order,
" 'give it to them,' and the roar of the shotguns mingled with the rat-a-tat of the machine gun, a clatter like that of a gigantic type-writer,"
read one
New York Times report
in the aftermath of the bloody Valentine's Day Massacre that left seven gang-affiliates dead in a Chicago auto body garage, and the nation facing down a war against organized crime and the
infamous Al Capone.
 Autopsies of the gruesome slayings were unearthed, last month, in a police storage warehouse 87 years after they were handwritten by shocked medical examiners.
"Both thoracic . . . cavities contain a large amount of blood, the lungs are perforated 12 times, there is laceration of the thoracic aorta, laceration of the liver and of the diaphragm,"
reads an excerpt from the report of Reinhardt Schwimmer, an optometrist, whose penchant for hanging around mobsters was his ultimate downfall, reported the
Chicago Sun Times
.
Other documents include interviews and records outlining the difficulty police had with witnesses who refused to testify, photographers getting too close to the crime scene, and the challenges encountered trying to document over 160 shell casings.
There is even an inquest interview with Schwimmer's mother, where the coroner, "prepares her for the grisly state of her son's body," reports the AP. Executive officer James Sledge, a local history fan and a Chicago native, is mostly responsible for unearthing the documents. It took him close to two years to locate the reports, which were found in a metal file cabinet in the Cook County government warehouse.
Authorities are currently considering what to do with the documents, although they will remain the property of the Medical Examiner's office.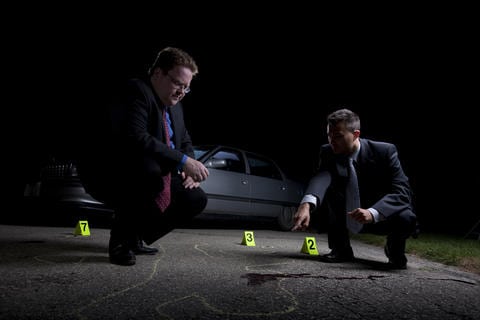 Today's forensic investigators have powerful tools at their disposal to figure out "who dunnit" including…
Spectroline's OPTIMAX™ Multi-Lite™ LED Inspection Kit
Featuring a  8 Quik-Connect™ interchangable LED heads that can spot: blood, bone fragments, fingerprints, bite marks, bruising, and trace bodily fluids the OPTIMAX™ is built for field investigation, evidence gathering and forensic laboratory work.
Law enforcement officials worldwide rely on Spectroline's full arsenal of ultraviolet and blue light lamps to solve their toughest crimes…so should you.Investigate for yourself