ASR-260A UV Concrete Field Inspection System
Concrete Field Inspection Kit Identifies Crack-Causing ASR Gel Fast!
Powerful, portable 'darkroom' tests for the major cause of concrete damage right in the field.
The Spectroline ASR-260A UV Concrete Field Inspection System is the only on-site device that enables inspectors to instantly detect the presence of concrete-damaging alkali-silica reactivity (ASR) gel in previously hard-to-examine places. Use it on pavement, roads, highway-support structures, bridges, dams, railroad-support pillars, airport runways, tunnels, buildings and more. Now, an inspector can tuck this powerful, yet lightweight, portable darkroom under either arm and easily carry it anywhere. This eliminates the need for laborious cutting and transporting of specimens back to the laboratory for analysis.
The shortwave UV source accurately detects the presence of ASR gel on portland-concrete surfaces in minutes, before it has a chance to destroy these crucial structures. Simply look for the bright yellow-green glow!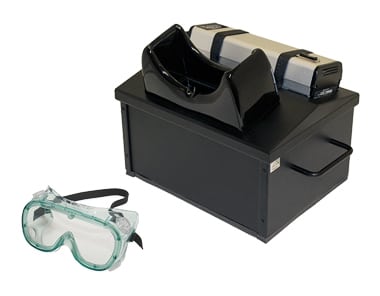 Makes inspections safe, easy and accurate.
Designed in accordance with the guidelines of the Strategic Highway Research Program (Project C-202, Document No. SHRP-C/FR-91-101). The cool-burning, double-tubed, 6-watt Spectroline Model EF-260C UV Lamp floods the surface to be examined with even more short-wave UV light (over 1,200mW/cm2) than Project C-202 specifications require. The cabinet has an aluminum housing with a tough polyurethane finish, while the lamp housing is constructed of rugged, anodized aluminum. The EF-260C lamp is UL and CUL listed.
This powerful lamp is secured on top of the modified CM-10A viewing cabinet by two durable vinyl straps with Velcro attachments. A built-in, UV-absorbing window within the flexible, contoured eyepiece protects the user from harmful UV radiation and eliminates the need for safety goggles when using the lamp and cabinet together. However, our optional UVG-50 UV-absorbing goggles can be used on occasions when the lamp needs to be removed from the cabinet, such as in the laboratory work. A durable light seal surrounds the bottom of the unit to prevent ambient-light leakage on irregular surfaces
| | |
| --- | --- |
| Part # | Description |
| 2F006 | Filter Assembly, Replacement |
| 9B65 | Rechargeable Battery (12V / 7 Ahr), Replacement |
| AA-12 | Adapter (12V Battery), with Alligator Clips |
| AL-12 | Adapter (12V Battery), with Male Cigarette Lighter Plug |
| AP-12/6 | Adapter (115V AC / 12V DC), with 10-foot Cord |
| BLE-6254S | Tube, Replacement |
| BP-12A | Battery Pack, Complete with RB-12S Smart Charger, 9B65 12V Rechargeable Battery and Nylon Carrying Case, for EF-260C/12 Lamp |
| CC-120A | Carrying Case, for ASR-260 Series Kits |
| RB-12S | Battery Charger, for BP-12A Battery Pack |
Easy to take anywhere.
The combined cabinet and EF-260C Lamp is lightweight and compact, weighing only 7 1/2 lbs. It measures just 9W x 12L x 5.5″ H, making it ideal for on-site inspection of any concrete surface. Sturdy metal carrying handles, located on either side of the unit, hold the cabinet securely in place for easy horizontal or vertical viewing. Our rugged CC-120A carrying case is included with the kit to assure safe transport to any job site.
The AC-operated ASR-260A kit, comes with the EF-260C UV lamp (available in 115 volt, 230 volt or 100 volt versions). We also offer the ASR-260A /12. This 12 volt DC version comes complete with the EF-260C/12 UV lamp (12 volts) and the other contents of the ASR-260A kit, along with an BP-12A battery pack and an AL-12 adapter with a male cigarette lighter plug.
A FREE handbook tells you everything you need to know about detecting ASR.
This 50-page book, published by the Strategic Highway Research Program (Project C-202), contains color photographs illustrating ASR damage. It is valued at $10.00 and is included at no charge with every ASR-260A Kit. Also included is a comprehensive, step-by-step instruction manual. The two books provide all the information needed to make safe and accurate inspections.