Choice of three models with a maximum standard UV-A intensity of 4,500 μW/cm2 at 15 inches (38 cm)

Large coverage area of up to 6.5 inches (16.5 cm), with a minimum UV-A intensity of 1,200 μW/cm2

Low visible light emission — less than 1 foot-candle (11 lux)

Built-in fan keeps LEDs cool to maintain optimum light output during extended use

Rubber bumper with Borofloat® glass lens protects LEDs from damage

Rugged, modular construction allows for easy field serviceability

Lamp handle pin receptacle allows for easy attachment of various Spectroline® mounting accessories for in-line inspection applications (accessories sold separately)

Choice of standard 8 foot (2.4 m) or extra-long 20 foot (6.1 m) heavy-duty power cord with AC plug and rubber boot. Also available: Optional industrial power supply or in-line power supply with cord sets (sold separately). All power supplies available in 120V, 230V, 240V and 100V models.

Meet ASTM UV-A intensity and wavelength specifications for LPT and MPT

Certificate of Light Output for both output and wavelength measurements supplied with each lamp

UV-absorbing spectacles and soft carrying case included
QUADRAN™ 365 S-Series faceplate shown with (right) and without (left) integral black light filters.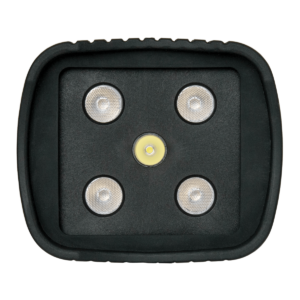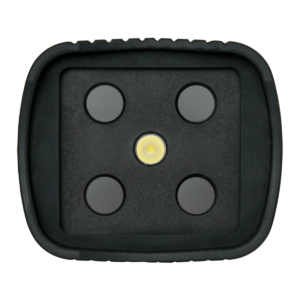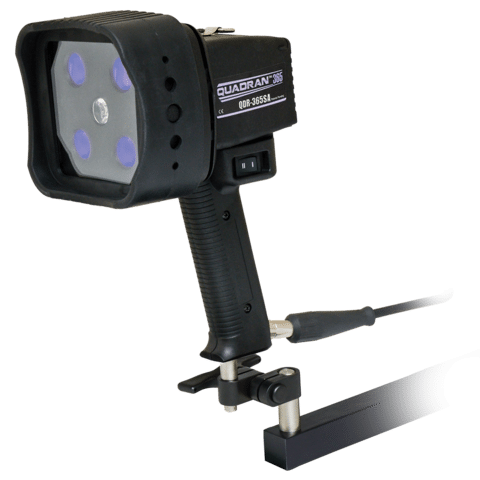 QUADRAN™ 365 S-Series lamps can be quickly mounted for in-line inspections using various Spectroline® accessories (FA-100 flexible arm shown).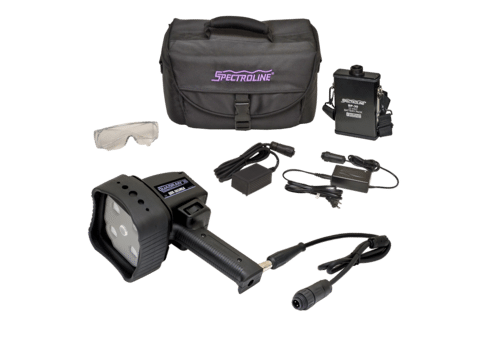 Also Available:
QUADRAN™ 365 MS-Series portable, battery-operated AC/DC lamp kits. Include QUADRAN™ 365 UV lamp, rechargeable NiMH battery pack, AC and DC cord sets, smart AC charger, UV-absorbing spectacles and soft carrying case.