Fluorescent Leak Detection Dye Compatibility with Hydrocarbons R-290 & R-600a
The HVAC/R industry continues phasing down the manufacture and use of synthetic refrigerants such as CFCs, HCFCs and HFCs. Natural refrigerants and hydrocarbons, such as propane, have become more prevalent in daily life and can be used as substitutes for the previous refrigerants. Hydrocarbons are some of the cleanest and environmentally friendly options out there for air conditioning and refrigeration. This transition to lower-GWP refrigerants will affect many aspects of the industry in the years to come.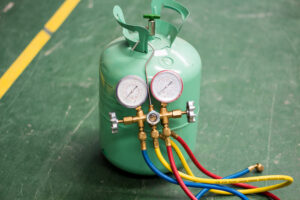 Spectroline AR-GLO 5 fluorescent leak detection dye has been vigorously tested for industry standards and compatibility with all popular refrigerants and oils, including natural refrigerants such as R-290 (Propane) and R-600a (Isobutane). Our Spectroline fluorescent dyes continue to be safe to use and will not harm the equipment or hvac system after it has been introduced.
Find our latest Technical Bulletin showing test results of Spectroline leak detection dye products compatible with R290 refrigerant and R600a refrigerant.
Quick Facts about R-290 and R-600a:
| Characteristic | R-290 | R-600a |
| --- | --- | --- |
| Name – Scientific | Propane | Isobutane |
| Classification: | Hydrocarbon Refrigerant | Hydrocarbon Refrigerant |
| Chemistry: | C3H8 or CH3CH2CH3 | C4H10 or CH(CH3)2CH3 |
| Status: | Active | Active |
| Application: | Supermarkets, Gas Stations, Vending/Ice Machines, Refrigerated Transport, Industrial Refrigeration and more | Home Refrigerators & Freezers, Commercial Refrigerators & Freezers, Commercial Vending Machines & Plug-Ins, and Industrial Refrigeration. |
| Replacement For: | CFCs, HCFCs, and HFCs | CFCs, HCFCs, and HFCs |
| Ozone Depletion Potential: | 0 | 0 |
| Global Warming Potential: | 3.3 | 3 |
| Global Warming Risk: | Very Low | Very Low |
| Toxicity Levels: | A (No Toxicity Identified) | A (No Toxicity Identified) |
| Flammability Levels: | Class 3 – Highly Flammable | Class 3 – Highly Flammable |
| Lubricant Required: | MO, AB, POE | MO, AB, POE |
| Form: | Gas | Gas |
| Color: | Colorless gas | Colorless gas |
| Odor: | Odorless | Odorless |
| Require Certification to Purchase? | No | No |
| Cylinder Color: | TBD | TBD |
Cited sources:
Chart reference from refrigeranthq.com