| | |
| --- | --- |
| Product No. | Description |
| UV-365ES | Standard Intensity, (3) UV-A LEDs, (1) White Light LED with FP-600 Borofloat Filter Protector, Heavy-Duty 8′ AC Cord, UVS-30 Spectacles & Soft Carrying Case |
| UV-365EH | High Intensity, (3) UV-A LEDs, (1) White Light LED with FP-600 Borofloat Filter Protector, Heavy-Duty 8′ AC Cord, UVS-30 Spectacles & Soft Carrying Case |
| UV-365ZEH | High Intensity, (3) UV-A LEDs, (1) White Light LED with FP-600 Borofloat Filter Protector, In-Handle Lithium-Ion Battery, 130448 Charger, Heavy-Duty 4′ AC Cord, UVS-30 Spectacles & Protective Case |
| UV-365MEH | High Intensity, (3) UV-A LEDs, (1) White Light LED with FP-600 Borofloat Filter Protector, BP-30 NiMH Battery Pack, Heavy-Duty 8′ AC Cord, UVS-30 Spectacles & Soft Carrying Case |
Also available in foreign voltages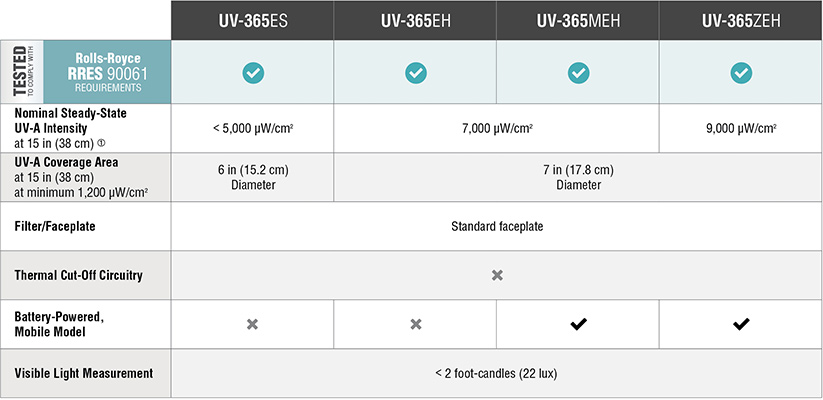 ➀ UV-A intensity reading taken with the Spectroline® AccuMAX™ Series meter, and is factory set to the value shown.
Each lamp is fitted with an 8-foot cord and the appropriate plug for the country of destination. Also available in 20-foot cord models.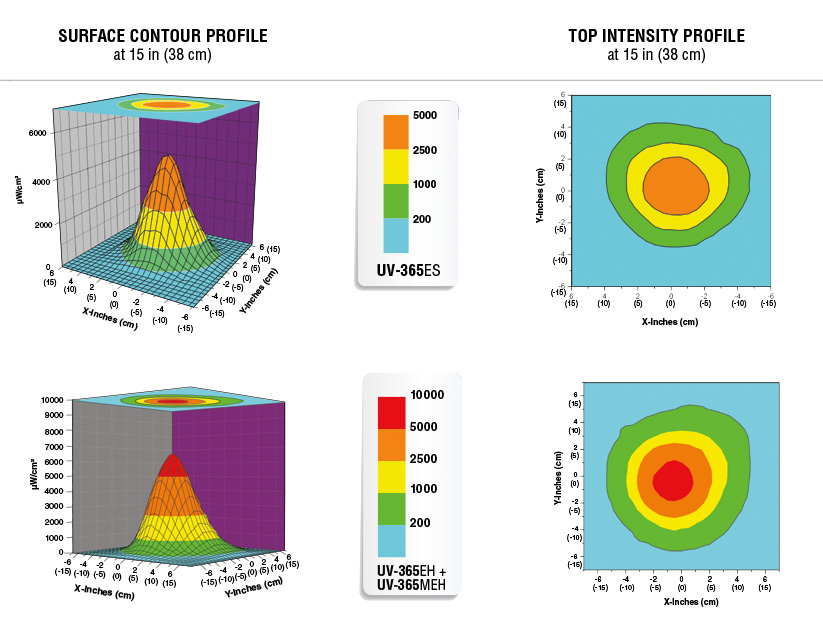 For use in any Nondestructive Evaluation or Specialty Application that requires UV-A light.