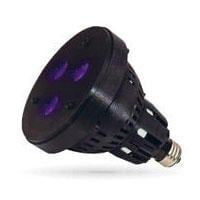 Spectronics Corporation revealed a new addition to its array of Spectroline® fluorescent inspection solutions at the 2016 ASNT Conference this past October: The VIVID™ LED-based replacement bulb for HID (mercury-vapor based) bulbs. Attendees at this year's conference were impressed with the VIVID™ design.
With built-in aluminum heatsinks, a lower operating temperature, and a high-grade outer casing, the VIVID™ is a step above traditional HID bulbs. For instance, HID bulbs run at higher temperatures and have shorter lifespans compared to LED-based bulbs. The VIVID™ bulb has a rated life of 50,000 hours on average — that's ten times greater than the rated life of mercury-vapor based bulbs. Additionally, the VIVID™ bulb contains no mercury whatsoever — eliminating any environmental concerns or dangers. The VIVID™ is energy efficient and lightweight, weighing 1 lb. versus the 6 lb. weight of HID bulbs.
Georgia Reid, Marketing Strategist at Spectronics Corporation, describes the benefits of the VIVID™ replacement bulb and its public reception at the ASNT Conference: "Attendees at the conference were able to see the VIVID™ up close. The crowd was especially interested in the long-lasting life of the LED-based bulb — fewer bulb changes means less down-time for workers, and less environmental waste. The VIVID™ is safer since it is much cooler than an HID bulb and will save inspectors from burns or other operational hazards. Attendees appreciated the Instant-On operation of LED-based VIVID™. There is no warm-up to reach full intensity or cool-down period — effectively streamlining the inspection process and reducing downtime. Additionally, the VIVID™ can be installed into custom lamp fixtures that include enclosures."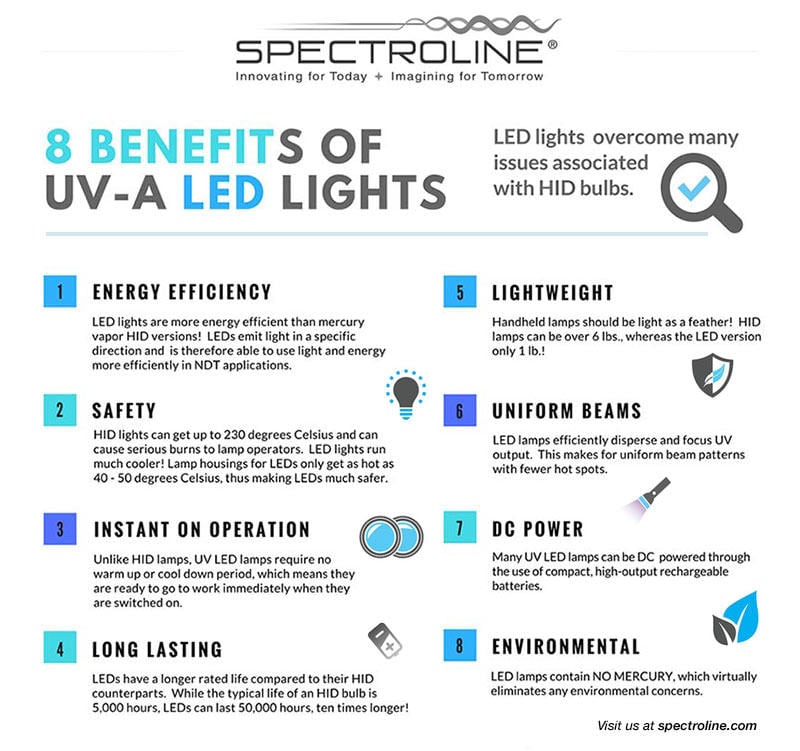 Upgrading to the new LED-based bulb is simple. In upgrading, the user is assured of the quality and the resiliency of Spectronics Corporation's brand. Spectronics has both ISO 9001:2008 quality management certification and AS9100C aerospace certification. The VIVID™ is one of the many first-to-market products Spectronics' offers — a legacy and history associated with the company's half-century of continuous operation and innovation in the United States and around the globe.
The VIVID™ offers many lasting benefits. Upgrading ensures the end-user is staying ahead of the curve. Many in the Ultraviolet Inspection industry are moving toward high-investment technology and
greater functionality. For example, the VIVID's™ LED-based technology creates an intensity profile more concentrated and uniform than what traditional HID bulbs can produce — covering a greater effective detection area reliably throughout the product's lifespan. In keeping with this objective of excellence, Spectronics Corporation recognizes the importance of defining an industry curve, and not simply following expectations. Learn more about the VIVID™ bulb