Spectroline Phone UV Sanitizer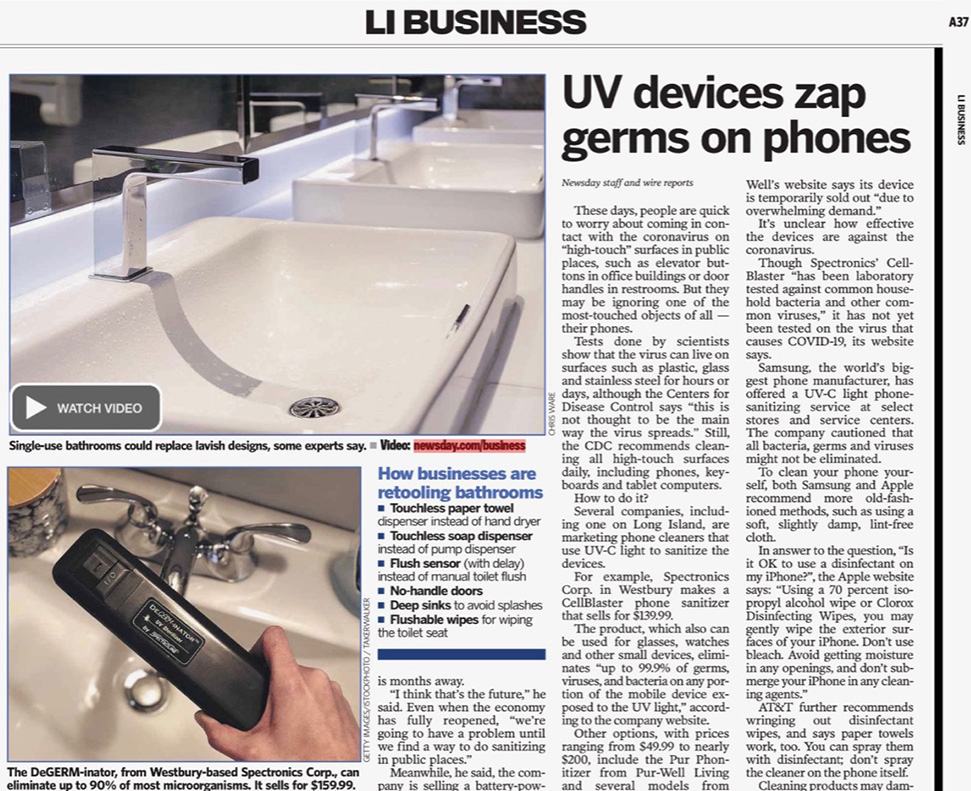 Spectroncs Corporation was mentioned in the June 1st, 2020 edition of Newsday and Newsday.com. The article titled "UV Devices Zap Germs on Phones" discusses the CellBlaster® Cell Phone Sanitizer and the strength of its UV-C germicidal power on mobile devices and everyday household items. Here are highlights from the article:
These days, people are quick to worry about coming in contact with the coronavirus on "high-touch" surfaces in public places, such as elevator buttons in office buildings or door handles in restrooms. But they may be ignoring one of the most-touched objects of all – their phones.
Tests done by scientists show that the virus can live on surfaces such as plastic, glass and stainless steel for hours or days, although the Centers for Disease Control says "this is not thought to be the main way the virus spreads." Still, the CDC recommends cleaning all high-touch surfaces daily, including phones, keyboards and tablet computers. *
How to do it?
Several companies, including one on Long Island, are marketing phone cleaners that use UV-C light to sanitize the devices.
For example, Spectronics Corp. in Westbury makes a CellBlaster phone sanitizer that sells for $139.99.
The product, which also can be used for glasses, watches and other small devices, eliminates "up to 99.9% of germs, viruses, and bacteria on any portion of the mobile device exposed to the UV light," according to the company website.
*************************************************************************************
Though Spectronics' CellBlaster "has been laboratory tested against common house-hold bacteria and other common viruses," it has not yet been tested on the virus that causes COVID-19, its website says.
*************************************************************************************
For those with a Newsday.com subscription, here is a direct link to the article: https://www.newsday.com/business/uv-cell-phone-cleaners-spectronics-1.45057155
*The CellBlaster has not been tested yet on the COVID-19 Coronavirus. It has been laboratory tested against common household bacteria and other common viruses. UV-C is a suggested method of sanitizing from the CDC, most recently for Filtering Facepiece Respirators (FFRs). Learn more about COVID-19 and prevention of its spread from the CDC and the WHO – www.cdc.gov/coronavirus/2019-ncov/hcp/ppe-strategy/decontamination-reuse-respirators.html