Spectroline's new QUADRAN™ 365 NDT lamp (QDR-365SC) feature four ultra-hi-flux UV-A LEDs plus a convenient white light LED to quickly switch between fluorescent inspection and flaw location. For increased flexibility, it features a unique dual, high/low white light output control. The lamp is fully compliant with the ASTM E3022 Standard for LED UV-A lamps.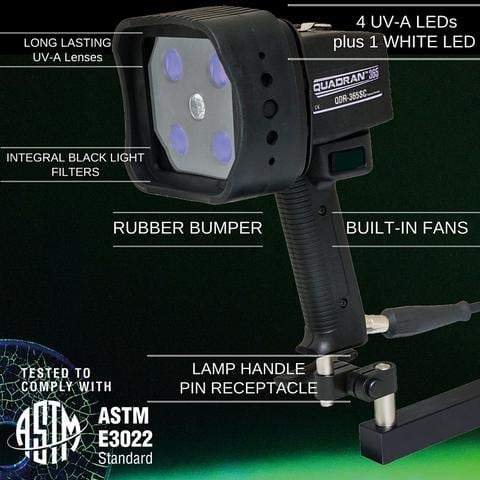 The QUADRAN's broad-beam configuration produces an extremely wide coverage area, making it ideal for both hand-held and in-line applications. Long-lasting UV-A lenses reduce the rate of solarization. The lamp features a nominal steady-state UV-A intensity of 3,700 μW/cm2 at 15 inches (38 cm). It also has a large 6 inch (15.2 cm) diameter coverage area at 15 inches (38 cm), with a minimum UV-A intensity of 1,000 μW/cm2. It's low visible light emission is less than 0.5 foot-candle (5 lux).
QUADRAN's faceplate with integral blacklight filters reduces output of wavelengths longer than 400 nm. While the white light LED allow for scanning of surface flaws or illuminating dark work spaces. Built-in fans keep the LEDs cool to maintain optimum light output during extended use. The QUADRAN features multi-LED, broad-beam UV-A (365 nm) inspection lamps. It is specifically designed to meet ASTM UV-A intensity and wavelength specifications for LPT and MPT.
There's no trigger finger fatigue with the QUADRAN. It stays on, working, until you're done working. That's because switching operation modes is as simple as toggling the rear-mounted, easy-use, three-way rocker switch (white light/off/UV). A built in lamp handle pin receptacle allows for easy attachment of various Spectroline® mounting accessories for in-line inspection applications (accessories sold separately).
A Certificate of Conformance for ASTM E3022 standard for emission characteristics and requirements for LED UV-A lamps is supplied with each lamp.

Choose between the standard 8 foot cord (2.4 m) or the extra-long 20 foot (6.1 m) heavy-duty power cord that comes with an AC plug and rubber boot. You can also choose between the optional industrial power supply or in-line power supply with cord sets (sold separately). All power supply and cord sets are available in 120V, 230V, 240V and 100V models. Each lamp comes with UV-absorbing spectacles and is packed in a convenient, lightweight, soft carrying case.