Q-Series
The Q-Series offers twelve lamp models with various combinations of long wave UV, short wave UV and white light, giving you the ability to select a unit that's ideal for your specific application.
You can choose a Q-Series lamp with either one, two or four long wave UV (365nm) tubes, depending on your intensity requirements. Most units are also equipped with either white light or short wave UV (254nm) tubes. The 2 x 4″ (5 x 10cm) high-resolution magnifier lens adds another dimension to this multi-purpose line of lamps. Optically ground and polished, the lens provides three power magnification at an 8 inch (20cm) focal length.
A rugged phenolic handle is attached to the housing by a friction-lock swivel joint for superior comfort and flexibility. For higher UV transmission and substantially longer filter life, each lamp utilizing short wave UV tubes is equipped with our unique LONGLIFE™ filter glass, which lasts up to 50 times longer than conventional filters.
A full line of accessories makes the Q-Series lamps even better. Order the sturdy metal Spectroline SQ-130 pedestal stand for hands-free use. Or wall mount the unit with the Spectroline WQ-240 bracket. Several lamp models are available with a unique pantographic, spring-balanced flexible arm, which extends 36″ (91cm) and swings in a 360˚ arc. This permits instant raising, lowering and positioning of the unit. A choice of three mounting brackets (W-4 wall mount, B-4 bench mount or T-4 table mount) is available for these flexible arm units.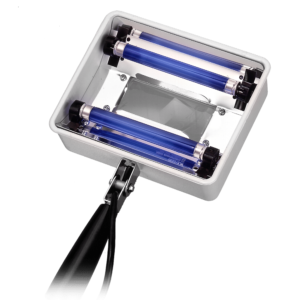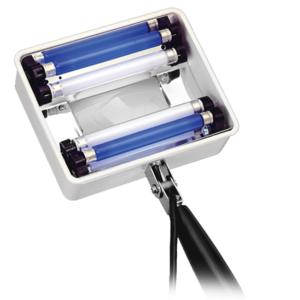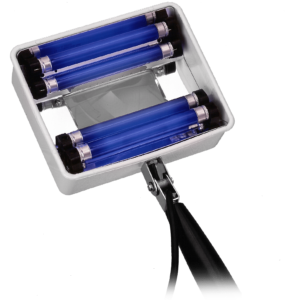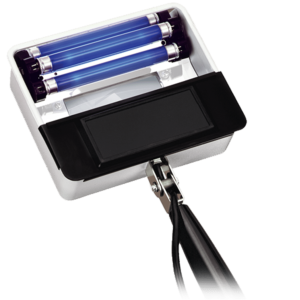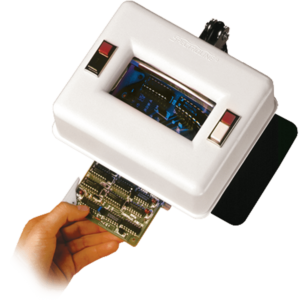 | Part Number | Description |
| --- | --- |
| 370B | Filter Assembly, 254nm |
| B-4 | Bench Mounting Bracket |
| BLE-220B | Long Wave UV (365nm) Tube |
| BLE-95D | White Light Tube |
| BLE-2537S | Short Wave UV (254nm) Tube |
| SQ-130 | Pedestal Stand for Hand-Held Q-Series Lamps |
| T-4 | Table Mounting Bracket |
| UVF-80 | Goggles, UV-Absorbing |
| UVS-30 | Spectacles, UV-Absorbing |
| W-4 | Wall Mounting Bracket |
| WQ-240 | Wall Bracket fo Hand-Held Q-Series Lamps |