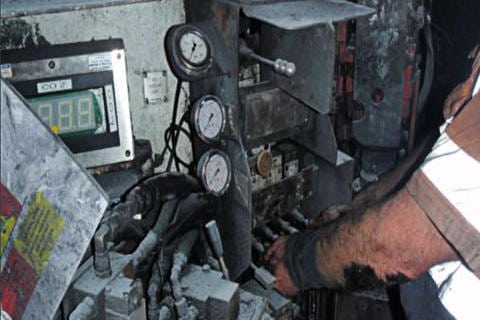 June is National Safety Month.
Did you know that according to the U.S. Bureau of Labor Statistics in 2014 (the lastest year data is avilable) there were nearly 3 million nonfatal workplace injuries and illnesses reported by private industry employers. Of those, a whopping 95.1%…or 2.8 million of these instances…were workplace occuring injuries.
A 2012 article inconstructionequipment.com, "People who work on mobile hydraulic systems are at risk on two fronts—first, when investigating leaks, especially when the leaks are not readily visible, and then when opening a system to make repairs."
But just how serious can these injuries really be?
"We never say 'always,' but we typically consider injection injuries a surgical emergency," offers Douglas Carlan, M.D. an orthopedic surgeon from St. Petersburg FL who was consulted in the constructionequipment.com story. "This is something we take immediately to the operating room to relieve the pressure…and to remove as much of the injectate as possible."
When added to the reservoirs of hydraulic machinery, Spectroline's FluidSafe™ Additive aids in the detection and surgical removal of hydraulic fluid in the event of an accidental fluid injection that penetrates the skin.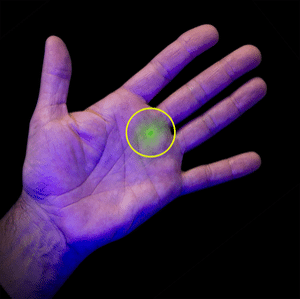 That's because when viewed under the SafetyBlu lamp's high-intensity blue light, the additive's bright green fluorescent glow pinpoints the injection track quickly and accurately.
This makes it easy for medical personnel to confirm whether a penetration actually occurred, and if so, to precisely determine the extent of the injury. This not only allows triage of cases not requiring surgery, but also helps pinpoint the exact location of hydraulic fluid under the skin, assisting in limiting soft tissue dissection required during surgery. The green fluorescent response will remain visible in the tissue for at least 24 hours, with no ill effects to the human body.
Another benefit of FluidSafe is that it helps detect leaks in fluid power system hoses, fittings, seals and other components. This decreases the consumption of hydraulic fluid, reduces the potential for equipment breakdowns, minimizes environmental damage, and helps prevent fluid release incidents. As a result, FluidSafe is ideal for preventive maintenance programs.
To find out more about FluidSafe can make every month of the year your worksite's safest month of the year, check out our Hazards of High Pressure Fluid Injections White Paper.