Traditional Bulb UV-A Lamps
Spectroline offers an array of powerful HID inspection lights for NDT inspection.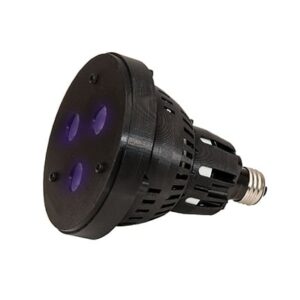 BLE-LED-100, BLE-LED-150,
BLE-LED-150/F
LED UV-A Replacement Bulbs – save on time and money by switching to LED! For use in HID lamp enclosures from Spectroline®.
Note to all customers who are searching for our traditional bulb lamp series (BIB-, SB-, FC-  series).
Please be aware these are completely discontinued since technology has migrated to more reliable LED UV-A lights.
Spectroline® is the world leader in developing the MOST comprehensive handheld and overhead LED UV-A lamps for NDT, Forensics, and Specialty Applications, including ASTM E3022 and Rolls Royce Compliant versions, as well as UV-A LED replacement bulbs.
The VIVID™ UV-A LED replacement bulbs can be used in your traditional Spectroline® brand HID lamps, converting them to LED technology.
We offer a variety of Handheld, Overhead, Headlamp/Flashlight UV-A LED lamps which can be found here.
For more information, please email your customer service representative.