VVS-400 Voter Verification System
Keep The Electoral Process Honest!
Invisible and indelible!
Fluoresces a brilliant blue under Spectroline® UV lamp!
Does not easily wear off or disappear — even after multiple hand washings!
Fast, easy, safe, economical and foolproof!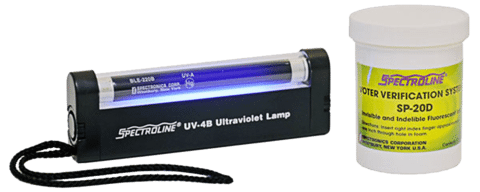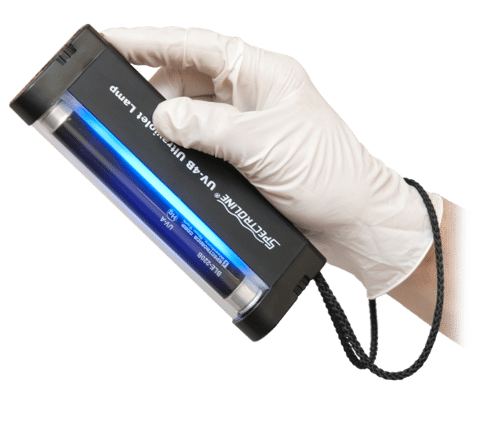 VVS-400 System includes:
Spectroline® UV-4B Battery-Operated Long Wave Ultraviolet Lamp
Compact, lightweight and portable! Weighs only 7 oz (198 g).
Powered by four 1.5V standard AA size batteries (not included). Provides 4 to 6 hours of use.
Features anti-slip, plastic screw for trouble-free tube changing, sliding cover for easy battery replacement and a handy nylon carrying strap.
Spectroline® SP-20D Fluorescent Ink
Ready to use — no mixing required.
Jar contains invisible and indelible fluorescent ink soaked foam.
Glows a bright blue color when exposed to UV light.
Does not easily wash off. Remains effective for more than 24 hours!
Over 2,000 applications per jar
Easy Two-Step Process:
After the vote is cast, before exiting the voting booth, the voter inserts a finger approximately one inch through the hole in the SP-20D fluorescent ink-soaked foam.
To stop a voter from returning and attempting to fraudently cast another vote, simply perform a routine check of the voter's finger under the Spectroline UV-4B lamp. If that person has already voted, their "inked" finger will be revealed by a telltale bright blue glow.