Covalently binds nucleic acid sequences and hybridization membranes in 30 seconds or less
Safeguards your valuable test results from washouts
Ensures optimum nucleic acid membrane binding, even when UV output varies
Provides ultimate ease of use and accuracy with "Smart" microprocessor controller
Protects users from UV exposure with fully enclosed chamber
Rugged, anodized aluminum housing
Long lasting anodized aluminum chamber prevents rusting
Available in SW, MW and LW wavelengths
Available in Two Sizes: Standard XL-1000 Series, and Large XL-1500 Series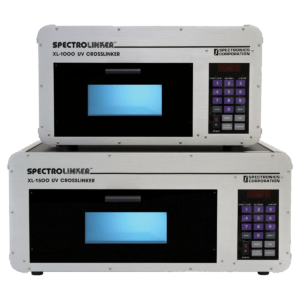 Select™ Series
economic and reliable!
Cost-effective, painted metal housing
Long-lasting anodized aluminum chamber prevents rusting
Available in SW, MW and LW wavelengths
Available in Standard size XLE-Series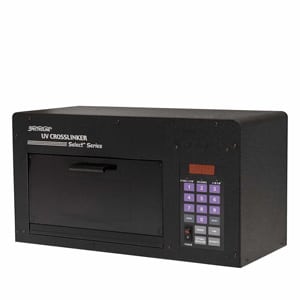 The 254nm versions of the
Spectrolinker™
 and
Select™
series UV crosslinkers provide super-fast DNA and RNA crosslinking to membranes for improved hybridization-signal sensitivity.
At peak, these units can process samples in under 30 seconds
— that's 240 times faster than vacuum-oven baking! Our exclusive, wavelength-specific, multi-stack UV photo sensor, which is factory-calibrated to NIST standards, provides precise UV-only dosage measurements. Full range display resolution is accurate to 5μW/cm
2
EMI/RFI protection. All models from both series offer exceptional accuracy and precision irradiation, even compensating for aging UV tubes when output diminishes over time.
Programmable "Smart" Microprocessor Controller
LED-function indicators and color-coded keypad
Built-in "help" messages
Four operation modes
Auto Repeat function remembers last operation without reprogramming
Four operation modes —
Optimal Crosslink mode automatically provides a preset UV energy dosage of 120 mJ/cm2
Energy-set mode (0-999,990 μJ/cm2) allows for variable amounts of UV energy to be programmed
Time mode (0-9,900 seconds), allows for variable time settings to be established
Intensity mode shows steady-state UV intensity output
Note: All units have an irradiance display resolution of ±5μW/cm2 over the entire range.
Built-in "help" messages —
Bulb: When the UV tubes need to be replaced
Door open: the unit also protects users from accidental UV radiation when the door is opened during a run
End: End of cycle confirmed by display and audible beep
Remaining Time/Energy provides operation status report
When the operation has been interrupted. The RESET button cancels the latest settings and START button automatically resumes the current operation.
Standard Size Product Details
Spectrolinker™ XL-1000 Series and Select™ XLE-Series
Overall housing dimensions (W x H x D): 19.5″ x 10.5″ x 9″, 49.5 x 26.7 x 22.9cm
Effective inner chamber dimensions (W x H x D): 13.5″ x 7.0″ x 7.5″, 34.3 x 17.8 x 19.1cm
Door dimensions (W x H): 12.0″ x 6.25″, 30.5 x 15.9cm
Viewing window dimensions (W x H): 6.0″ x 2.5″, 15.2 x 6.4cm for XL-series, 6.0″ x 3.0″, 15.2 x 7.6cm for XLE-series
Net weight: 17.5 lb, 7.9kg
Power: 120V-60Hz-2A, 230V-50Hz-2A, 100V-50/60Hz-2A

Large Size
Spectrolinker™ XL-1500 Series only
Overall housing dimensions (W x H x D): 24.0″ x 10.5″ x 14″, 61.0 x 26.7 x 35.6cm
Effective inner chamber dimensions (W x H x D): 18.25″ x 6.25″ x 12.5″, 46.4 x 15.9 x 31.8cm
Door dimensions (W x H): 16.0″ x 6.25″, 40.6 x 15.9cm
Viewing window dimensions (W x H): 6.0″ x 2.5″, 15.2 x 6.4cm
Net weight: 26 lb, 11.8kg
Power: 120V-60Hz-3A, 230V-50Hz-3A, 100V-50/60Hz-3A