Easily customizable! Move, adjust and add up to two lamp heads according to your specific inspection requirements (additional lamp heads sold separately)
Cool-running, energy-efficient LEDs
Broad-beam profiles provide wide coverage area
Electronic Intensity Stabilizers ensure consistent LED performance
Instant-on operation; lamps reach full intensity immediately
Built-in fans keep LEDs cool to maintain optimum UV-A intensity during extended use
Produces less than 2 foot-candles of visible light
Filter protectors with rubber bumpers and Borofloat® glass lenses prevent damage to LEDs
Optional remote control with three-position rocker switch provides added convenience and versatility
Comes complete with UVS-30 UV-absorbing spectacles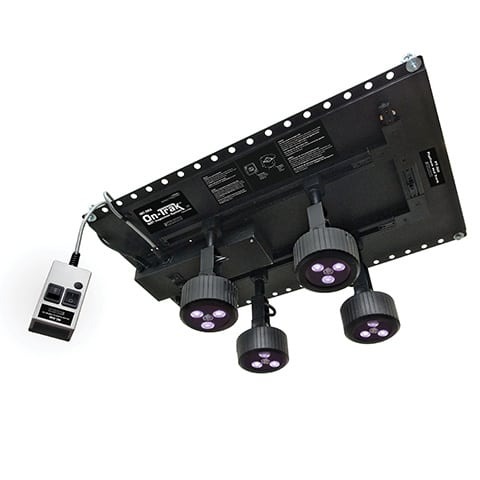 The OnTrak™ ONT-365A  NDT inspection system is a customizable, track light-style modular system attached to a mountable platform. It features four broad-beam LED lamp assemblies, each with three ultra-high intensity UV-A (365 nm) LEDs and one white light LED. Provides UV-A flood coverage that is ideal for a variety of NDT applications.
Product Number

ONT-365A

Light Sources

3 UV-A LEDs and 1 white light LED
per lamp head
System Dimensions
(L x W x D)
28.5 x 18.3 x 11 in
(72 x 46 x 28 cm)
Head Diameter
3.25 in (8.3 cm)
Length
9.5 in (24 cm)

Platform dimensions
(L x W x D)

28.5 x 18.3 x 2.5 in
(72 x 46 x 6 cm)

13 lb (5.9 kg)
8 ft (2.4 m)
Input: 100-240 VAC 50/60 Hz
Output: 12 VDC

Nominal steady-state UV-A (365 nm) intensity

15 in (38 cm) — 9,000 μW/cm²
24 in (61 cm) — 5,000 μW/cm²
36 in (91 cm) — 4,000 μW/cm²
| | |
| --- | --- |
| LA-365 | UV-A/white light LED lamp head assembly |
| PT-200 | Platform and tracks |
| UL-100 | UV-A Lens |
| | FIle protector with rubber bumper and Borofloat glass lens |
| AF-200 | Air Filter (package of 24) |
| PS-100A | Power supply module |
| | AC remote control with 8 foot (2.4m) cord |
| | Spectacles, UV-absorbing |
| | Goggles, UV-absorbing |
| | Face shield, UV-absorbing |
UV-A Beam Profile