More than twice as powerful as most corded, high-intensity UV-A lamps
Coverage area of up to 2.5 inch (6.3 cm) diameter at 15 inches (38 cm)
Versatile, compact design easily gets into tight, cramped spaces
Anodized aluminum lamp body minimizes corrosion and stands up to years of heavy use
Conveniently located on/off switch for easy, one-handed operation
Powered by one rechargeable lithium-ion battery, with an extra battery included in the kit. Each provides 4 hours of continuous inspection between charges.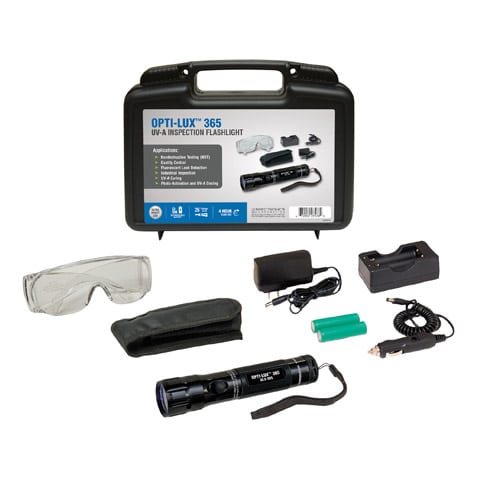 OPTI-LUX 365 Series flashlights come complete with lanyard, belt holster, two rechargeable batteries, two-position smart charging cradle with AC power cord, DC cord set, UV-absorbing spectacles and padded carrying case.
| | |
| --- | --- |
| 127423 | Dome Lens |
| 128217 | Battery Charging Cradle with AC Cord (100-120V/50-60Hz) |
| 127568 | Rechargeable, Lithium-ion Battery |
| 127574 | Belt Holder |
| 127785 | Clear Filter |
| 127796 | Rubber Lamp Protector |
| 128225 | DC Cord Set |
| CC-365 | Hard Carrying Case |
| UVS-30 | Spectacles, UV-Absorbing |